Get Off the Grid with Local
Factory-Direct Solar Power Systems
You've probably heard a lot about solar, but have wondered if it's really worth the cost and burden of installation. At Elor Energy, we know the reality is that solar power systems are more achievable, easier to install, and more powerful than ever before. We employ Q CELLS, the most effective solar modules in the business.
Their lightweight, durable frames combined with a high yield surface area means you get the maximum amount of solar energy in all weather conditions. Best of all, the systems come with an inclusive 30-year product warranty and 30-year performance guarantee.
Beyond the lucrative federal tax credits and incentives, solar power systems are eco-friendly and have the ability to drastically reduce your energy costs and impact on the environment while making most of the free, abundant sunshine in California.
Leak-Free Guarantee. Our smart racking system allows us to guarantee a leak-free solar panel installation.
Power Your Home with SolarEdge
SolarEdge is a global leader in smart energy technology. By deploying world-class engineering capabilities and a relentless focus on innovation, we create smart energy products and solutions that power our lives and drive future progress.
Maximize production from each solar module by eliminating power losses that can be caused by soiling, shading, or snow. More power = more revenue for faster system payback and lower electricity bills.
SolarEdge enables optimal rooftop utilization, resulting in more modules on the roof for more energy, more savings, and more aesthetic rooftops.
Eliminate Your Energy Bill
Eliminate your SDG&E bill and avoid power companies controlling your money.
SolarEdge provides peace of mind with built-in safety features compliant with the most advanced safety standards, for maximum protection of people and property.
SolarEdge products are built for lasting performance.  Protect your investment with warranties amongst the longest in the industry.
Monitor your real-time system performance from the palm of your hand.  Accessible for free, anytime, anywhere, from your computer or mobile device.

SolarEdge Benefits
Inverter
The brains of the PV system
Efficiently converts DC energy to AC electricity for use in your home
Manages system production, battery power, and EV charging
Optional meter to track your home energy consumption
Power Optimizer
Connects to solar modules enabling them to perform at maximum capability
Provides greater energy production, enhanced safety, and constant feedback from each module
StorEdge®
Stores PV energy in batteries for use when needed
Provides backup power for the home during grid outages
Monitoring Platform
View real-time system and module performance, and receive notifications on mobile devices
Visibility of energy production and consumption, battery charge level, and EV charge status
Integrated EV Charger
Combining EV and PV significantly reduces hardware costs
Save time and effort, and avoid a potential main panel upgrade
With solar boost mode, charge even faster than a standard Level 2 charger
EV charging station also available
Why should I have a home battery?
Generally homes have high demands for energy in the mornings and evenings but solar generation is highest during the mid-day.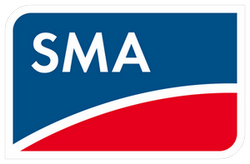 SMA Power+ Solution Benefits
Comprehensive Solution for the Home of the Future
SMA's Power+ Solution is more than a typical PV system, offering so much more than just an inverter and optimizer. Give your home a holistic energy solution that is a cut above the rest, with module-level monitoring from the award-winning Sunny Portal and customizable storage-ready options.
Powering More Homes Than Any Other Inverter
The inverter is the brains of your solar power system, converting the DC electricity your panels generate into usable AC power. It also regulates power production and interacts with the grid to keep your system safe and compliant. SMA inverters provide the greatest savings and best return on investment for your home's solar system.
SMA Smart Connected will be able to know when a problem arises with your system related to the inverter. With SMA's experience and smart system analytics, the problem will be automatically diagnosed, in most cases, before you are even aware there is an issue with your system.
Automatic inverter monitoring
Proactive communication
Replacement service

SnapNrack Rail Systems
SnapNrack is a sleek and straightforward rail solution for mounting solar modules on all roof types. Ultra Rail is a sleek, lightweight rail solution for mounting solar modules on the roof. The entire system is a snap to install utilizing new Ultra Rail Mounts that include snap-in brackets for attaching rail. Compatibility with all existing module clamps maintains the same intuitive install experience installers know and love.
Industry-leading aesthetics with Universal End Clamps and snap-in End Caps that make the mounting system invisible underneath the array
Unparalleled wire management solutions with accessories such as Junction Boxes, Universal Wire Clamps, MLPE Attachment Kits, and Conduit Clamps
Low profile rail maintains the open channel with room for running wires resulting in a top-quality finished install
The largest span capabilities of any light rail solution

LG Home Battery
Avoid Blackouts & Utilize Your Surplus Solar Energy.
The SolarEdge StorEdge Solution and Monitoring Platform. SolarEdge's StorEdge™ DC coupled storage solution allows homeowners to maximize self-consumption and enables energy independence.
Why should you have a battery?
Homes typically have higher energy demands in the mornings and evenings, but solar generation is highest during the mid-day. This means that, without a home battery, much of the solar energy could be wasted. A battery allows you to store and use the overproduced during the times that the most energy is required.
Introducing the LG CHEM RESU10H-SEG
Lithium-Ion Battery
400VDC
9.8 KWH
Unexpected blackouts seriously undermine your life. Prepare yourself with a home battery and keep your family safe.
A Home Battery can store the extra energy generated from solar panels to use at a later time. Power your home with a Home Battery when the cost of energy is high or during a power outage. You can now be independent from the electrical grid.

Building tomorrow's energy network today
Use your solar energy when you need it, day or night. Take control of your PV system, reduce your utility bill and rest easy knowing you have dependable backup power.
Residential Energy Storage System
+20 years of experience designing and manufacturing power electronics and controls and integration with solar, batteries, & fuel cells.
Partnered and integrated with global lithium battery leaders LG Chem and Pylontech.
Highest efficiency inverter on the market in low voltage segment.
Over 10,000 Eguana inverters deployed around the world.
+35 MW installed globally with +6000 behind-the-meter energy storage systems.
Exclusive partnership with Hanwha Q Cells, Europe's leading PV panel producer.
Mercedes Benz Energy tested and endorsed.
Evolve LFP
Safe and Reliable Cobalt-free Battery Chemistry
Non-toxic and non-hazardous
Superior thermal and chemical stability
Incombustible and thermal runaway resistant
Industry-leading Pricing
Lowest cost residential LFP energy storage system on the market
Indoor or Outdoor Use
 NEMA 3R rated enclosure
32° to 122° F ambient operating temperature