Energy Efficient Window Systems
Unmatched Energy Efficiency – Unmatched Energy Efficiency- Elor Energy specializes in installing the most energy-efficient windows and French Door systems available in California. We only work with the highest quality, custom manufactured products. That's why we selected Anlin Window Systems as our exclusive partner.
Our replacement windows we install are specially engineered to meet the needs of homes in all climates. Anlin Window Systems uses a proprietary glazing technology that offers the highest levels of strength, durability and energy savings available. There aren't just our words, but it's what the National Fenestration Rating Council (NFRC) says about the Anlin Window Systems. They provide a lifetime of worry-free service to our customers. We won't settle for anything less. What's more, our work is covered by an exclusive, True Double Lifetime Warranty direct from Anlin Window Systems offered by only a few windows and door manufacturers.
Recycling Rebate
Receive $175.00 Recycling Rebate for each of your old windows.
10% Off Initial Visit
Receive 10% off of your first project with Elor Energy!
Sliding Glass & French Doors
50% Off on Sliding Glass Doors and French Doors
Manufacturer Rebate
Enjoy a $1500.00 rebate from the manufacturer.
Free Entry Door and Lock Set
Receive a free entry door with lock set and install ($1450 value).
Find Out About Our Manufacturer Backed True Double Lifetime Warranty
Ready to Remodel?
Benefits of our Energy Efficient Products
Energy Efficiency
SunShield Max – The most advanced glazing technology available

Triple-Silver Layer Coating – substantially reduces heating and cooling costs
Three-Chamber Silicon Spacer – premium closed cell silicon foam reduces thermal transfer and provides an airtight seal
Triple-Fin Weather Stripping – reduces thermal transfer, blocks air in filtration, sound, dust and debris.
Beauty & Aesthetics
Even Sight Lines – elegant to look at and adds excellent curb appeal to your home
Narrow Center Bar – provides more viewing area and less vinyl
MasterBlend Vinyl – proprietary blend of titanium dioxide and micro ingredients offer a lifetime of beauty
BetterVue Screen Mesh – 20% clearer view, 20% better air flow and 10% less insects
Security
Vent Stop – keeps window partially open for ventilation- does not allow full operation
AAMA Certified – All Anlin Extreme Series Products are "Gold" label certified
Metal Reinforced Locking Rails – all hardware in fastened into full length metal reinforcement
California Forced Entry Tested – All Anlin Extreme Windows products- pass the most stringent forced entry test in the nation
Sound Suppression
Offset Glass Thickness – 1/8" glass combined with 3/16" glass substantially reduces noise
Triple-Chamber Silicone Spacer – Three dead-air chambers reduce sound waves and increase energy efficiency
Dead-Air Chambers – Anlin Extreme Windows are engineered with chambers within the designs to increase energy efficiency and helps deaden sound waves
Special Features
Easy-Clean Exterior Coating – a special coating breaks down dirt keeping your windows cleaner longer
Positive Action Lock (PAL) – automatically locks when you close your window
Integral Contoured Pull/Lift Rails – no gaps where moisture or dust can accumulate
Constant Force Balances – stainless steel balances offer a lifetime of smooth, trouble-free operation
Peace of Mind
Anlin backs all Extreme products purchased and installed by ELOR with A True Double Lifetime Warranty- the best in the industry.
Lifetime Warranty – parts and labor for as long as you own your home

Non-prorated coverage of parts and labor, no cost to you

Accidental glass breakage coverage

Fully transferable to subsequent owners for 15 years
Energy Efficient Window Configurations
Our Diamond Extreme and Platinum Extreme windows manufactured by Anlin Windows offer the ultimate in engineering, highest quality materials and fully welded construction. Better still, you can have all that quality with an array of options. Your windows and doors are custom built for every opening in your home- per your selection.
Diamond Extreme Series
(Anlin = Catalina/Panoramic Series)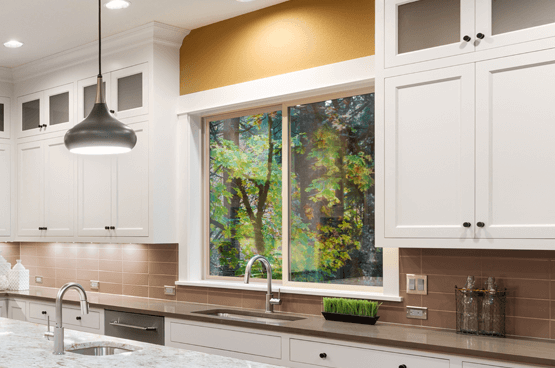 Platinum Extreme Series
(Anlin = Coronado Series)
What to Expect Installing Windows with Elor Energy

The installers were very professional and clean. The windows turned out great!
We have more than 250 5-star reviews on GuildQuality.com!
Ready to Remodel?
Schedule Your Free Consultation!