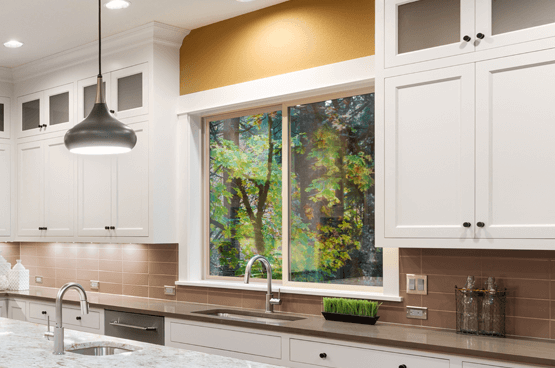 Our Energy Efficient Platinum Extreme Series Windows
Platinum Extreme Series windows and doors are engineered to provide the most energy concious homeowner the ultimate solutionf or replacing their old windows and doors.
With unmatched energy efficiency, superior aesthetics for curb appeal, security certified and a LIFETIME warranty for peace of mind, these are just a few reasons why Platinum Extreme Series products provide greater comfort year round and maximizes your savings.
View our new Windows Brochure!
Even Sight Line
Even sight line frame brings a balanced, symmetrical look to your home for enhanced curb appeal.
Smooth Operation
High-quality rollers and a constant-force stainless steel balance system ensures smooth operation of sliding and hung windows.
Tilt-In Feature
Single and double hung window features sashes that tilt in for easy cleaning of the outside glass. (Double hung window shown)
Weatherstrip
Antimicrobial triple-fin weatherstrip with four barriers of filler provides a weather-tight seal blocking more wind,dirt,bacteria, moisture and sound.
Clear View Screens
Screens are infused with antimicrobial protection, providing clearer viewing, better airflow and insect protection.
Ventilation Latch
Built-in ventilation latch allows an opening space of a few inches, while providing a semi-secure opening.
Easy Clean Coating
Easy Clean Coating on the outside glass harnesses the sun's UV rays to break down dirt so water can rinse it away, resulting in fewer visible water spots.
Security & Safety
All lock hardware is securely attached to metal reinforcement and a continuous interlocking rail prevents "jimmying" or access to the lock. All windows pass the California Forced Entry resistance test.
Diamond Extreme Series Window Types
Additional Window Upgrades
Grid Styles

⅝" Flat

⅝" Sculptured

1" Sculptured
Grid Patterns

Perimeter

Queen Anne

Colonial
Glass Patterns

Standard Obscure

Flemish

Rain

Narrow Reed

Delta Frost

Glue Chip
ThermaCoat Solar Reflective Colors
Designers know that color is one of the most effective ways to enhance a home's charm and curb appeal. It's the finishing accent that turns a nice home into a "wow" home. Available in 12 of the most popular designer colors, ThermaCoat lets you personalize your windows and doors to bring out the best in your home.
Thermal Performance
Ultraviolet (UV) light block calculations performed using Lawrence Berkeley Laboratories Window 4.1 program. Percentages indicate amount of UV transmittance blocked from the interior using a ¾" glazing unit.

Visible light transmittance indicates the amount of outside light reaching the interior as calculated using center of glass. Higher percentages mean more outside light reaches interior.

U-factor represents the amount of heat transfer as measured in accordance with NFRC 100-2001, calculation uses total window unit, and assumes ¾" glazing with a ½" airspace. Lower is better.

Solar heat gain coefficient (SHGC) measures the amount of solar radiation entering the building. As measured per NFRC 200-2001 with the Window 4.1 and Frame 4.1 modeling programs. Lower is better.
Installation Standards
Elor recommends following installation standards in your local building codes, and the instructions found in the following AAMA publications:
Replacement: AAMA 2410-13U: Standard for Installation of Windows with an Exterior Flush Fin Over and Existing Window Frame.
Replacement: CAWM 420-97: Standard for Installation of Block Frame Windows utilizing an Existing Perimeter Wood Frame.
Replacement: AAMA 2400-10: Standard for Installation of Windows with a Mounting Flange in Stud Frame Construction.
Recycling Rebate
Receive $175.00 Recycling Rebate for each of your old windows.
Window Replacement
25% Off for your entire house window replacement.
Manufacturer Rebate
Enjoy a $1500.00 rebate from the manufacturer.

The installers were very professional and clean. The windows turned out great!
We have more than 250 5-star reviews on GuildQuality.com!
Ready to Remodel?
Schedule Your Free Consultation!